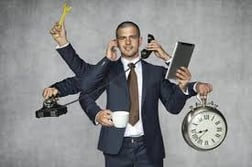 Oh, the infamous "other duties as assigned." That little phase at the end of your job description that seems so innocent and benign in your interview that you barely notice it. It's just the bullet point that they "have" to include - it's no big deal, you tell yourself.
You get the job, settle in, decorate your office, and get to know your coworkers, and then...things change. We have all been there. In nonprofit fundraising, "other duties as assigned," or ODAA, might as well be the first line of your job description. As we all know, we wear a LOT of hats in our jobs in nonprofits, and that's really what ODAA means. It means, not only do you have to do your primary responsibilities all the time, at any point you may also have to do a variety of tasks including, but not limited to:
Flower arranging
Gift wrapping
Speech writing
CEO/VIP handler, coach, and therapist
Driver and chauffeur
Courier
Personal shopper
Personal assistant
Etiquette expert
Furniture assembler
Trash dispenser
Postage expert
Team therapist
Mail stuffing specialist
Bouncer
Caterer
IT expert
I know you may be chuckling, but this is a real list. I have been called on to do these items multiple times in my career, and I bet you have too. And these aren't even the strangest ones (don't ask). In nonprofits, we have to do a lot of things, and we often are called upon to drop what we are doing at any given time to do ODAA for the sake of an important meeting, event, or donor activity.
Often, it's the office joke – we look at each other and chuckle, shrug our shoulders, and just do whatever task we are asked to do, however strange it may seem. We sometimes sigh, look longingly at our to do list for the day, but we still get the job done.
ODAA tasks may seem mundane, but I believe they are the core elements of what makes nonprofit fundraising professionals special. I would also say that if you are not willing to drop your work and get the job done, even if that means arranging flowers for your colleague's donor event this evening, you are probably in the wrong field.
No, I take that back. You are definitely in the wrong field.
My previous colleagues and current clients can attest that I have always said "that's not my job" are words that should never be uttered on a development team. Never. Nope. Not even once. We have to back each other up and do whatever it takes to make a donor experience special, an event successful, or help your CEO/ED be their best. Simply put, we are in a complex aspect of customer service, and we must be donor-centered/customer-centered at all times. Donors and our missions are the top of the heap – we are the worker bees who make it happen. And creating special connections with the organizations and donors is our job. Even if that means you have to drive 30 miles (in the driving rain) to hand deliver a special gift to a donor for the holidays in recognition of their tremendous support this year.
And if your annual fund coordinator's volunteers did not show up and you have 3,000 letters to be stuffed today, well, guess what – you start stuffing.
I have learned so much from these experiences, even when they have been weird and downright ridiculous. Simply put, learning to do whatever it takes to get the end result your team or organization needs (as long as it is safe and ethical, of course) is part of creating a strong personal work ethic, team bond, and ultimately, a culture of philanthropy.
A selfless approach to our work is truly needed to ultimately succeed in this field. It is not about us. It is not about our accomplishments, how much we raise, or how fantastic an event we produce. What matters is that we are helping our organizations to accomplish their missions and ensuring the donors who make these programs happen are engaged, stewarded, and connected to the great work their donations enable. We are the stewards, not the stars.
I repeat: we are the stewards, not the stars.
I have seen when this key point is forgotten – when the title and the glamour get to a gift officer or a director and they forget what it is that we are here to do. This field chooses us, folks. We are the givers, the providers, the stewards. It does not mean that we cannot enjoy our work or interact in the philanthropic world with our donors, but it does mean that we should always have a sense of humility and grace in all that we do.
So, one minute you may be in your black tie gown chatting with your favorite donors and finally getting to have that important conversation with that one hard-to-pin-down prospect, and then an hour later you have your skirt pinned up, your comfy Uggs on, and you are clearing linens and helping staff tear down décor. It's what we do. We work 16 hours on event days, and show up the next morning bleary-eyed, feet swollen, and then we start all over again, because guess what – those gala donors need to be thanked.
So, don't sweat the ODAA. Embrace them. Learn from them. Use them as a time to remember why we do what we do. Help your team members with whatever task it is that needs to be done, and bond over stuffing letters or assembling IKEA lounge furniture because the operations staff got tied up doing other set-up items. Just do it. Remember that a selfless approach to our work will reap rewards tenfold in the end. Do whatever it takes to make it work, help your team, and show what it is to be a good steward.
That's why nonprofit work is so interesting and exhausting all at the same time. And we can all say with confidence – it is never, ever dull.
---