There comes a time in a nonprofit's lifecycle when it is faced with an extraordinary opportunity – a vision of how to expand and further its mission.
An extraordinary opportunity or challenge is one that cannot be addressed through traditional means and/or resources. It requires an extraordinary plan, effort and energy. And when complete, yields extraordinary results.
These extraordinary opportunities and visions require well-conceived strategy in order to be brought to life. Many times, these opportunities call for a capital campaign in order to be funded outside of the regular operating budget. Whether you are raising $1 million or $50 million, there are a handful of key components that every capital campaign needs to succeed.
At the very basic level, a capital campaign is the process of bringing a donor to a quality decision.
The depth of the relationship you have with the donor determines the quality of consideration and the decision to support the mission.
On the impersonal end of the spectrum, casual, transactional decisions are made. Buying a candy bar at the grocery story, to bidding on items in an auction. These are impulsive decisions that are likely forgotten later.
On the other end, personal and life-impacting decisions are made. It doesn't matter if you are buying a house, a car, or making a sizable contribution to a nonprofit, the decision-making process is similar. This magnitude of decision involves much more deliberation and discernment. These decisions are transformational.
The process of by which people are brought to decision is very different in each scenario. Although every person is unique and will consider different things based on their passions and interests, it is the relationship and quality of the decision that makes the difference. The key is to see fundraising from the perspective of the donor. At the heart of the decision is the personal relationship and a deep connection with your mission.
After recognizing that the donor relationship is the foundation to all giving, we can move on to the building blocks of a successful capital campaign.
Case: The Story You Tell
A compelling case is essential to communicating your vision. It must be for an extraordinary need, convey a sense of urgency, and ultimately answer the question, "How will we change lives for the good?"
There is a basic structure necessary for a good story. A good story must have unforgettable characters, an interesting setting, a plot, a conflict and a resolution. One of the biggest mistakes organizations have in crafting their campaign story is the elimination of the conflict. This is what makes the story interesting. It should represent a problem to be solved, a challenge to be overcome or a wrong to be righted. The conflict should leave an unresolved feeling with donors. The presentation of a conflict allows your donor to become the hero of your story. Overcoming the conflict should result in the growth and prospering of your nonprofit's mission. Ultimately, because of your hero, your donor, you are able to impact more lives.
Leadership: Who Tells the Story
First, it is critical that your Board is, well, on board. They must agree with the need and the plan and be willing to give. Beyond the Board, you will need to organize a small, nimble campaign leadership team that will bring your story to life. A good storyteller can add passion that takes your case to the next level.
Imagine sitting across from a trusted friend while they paint a picture of a challenge in your community that they feel compelled to find a way to overcome. The campaign leadership team must have a deeply held conviction for your overall vision and mission. The key is enlisting the right people into the right roles. Don't over-simplify this process. Engaging effective volunteer leadership involves proactive identification of the right individuals, an invitation to serve in an important, vital leadership role, and orientation to the campaign plan and their responsibilities. Invest the time to set your volunteer leadership up for success.
Prospects: To Whom You Tell the Story
Now that we have the story and the storyteller, we need to identify the audience. There are many common mistakes that occur during this phase of the campaign preparation. It takes training and discipline to understand that, while you would like to have your entire donor base involved in the campaign, the truth is that the key to success with most campaigns lies with less than 50 donors. Yes, that is regardless of the amount you are trying to raise.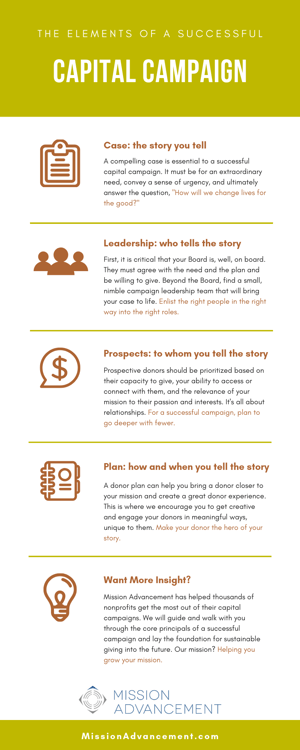 It is essential to spend time segmenting your donor base and performing due diligence before you jump into an ask. Prospective donors should be prioritized based on their capacity to give, your ability to access or connect with them, and the relevance of your mission to their passion and interests. We recommend that organizations spend time mapping these resources as they relate to the campaign plan. Again, it's all about relationships. For a successful campaign, plan to have deeper conversations and more, valuable interactions with fewer prospects.
Plan: How and When You Tell the Story
The last piece of planning a successful campaign is where we encourage you to get creative. Your major gift donors deserve a magical experience – one that will deeply and personally connect them to the greatness of your vision. This is the only way to inspire a donor to come forward with a full-capacity, transformational gift.
During this stage, you will work with your campaign leadership team to plan intentional interactions and unique experiences that cultivate donors to give like never before. A donor plan takes your key donors through the journey of becoming aware of the needs, connecting to the mission, being invited to give, and experiencing the fulfillment after their gift is made. The key is creating meaningful connections that are individualized to each donor. This process can help you bring a donor closer to your mission and create a great donor experience.
Download our infographic, The Elements of a Successful Capital Campaign.
---